EX BECARIOS DEL PROGRAMA DE VISITANTES INTERNACIONALES DE TODA AMERICA SE REUNIERON EN BS AS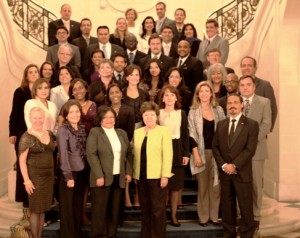 De 27 a 30 septiembre, 39 líderes, pensadores y hacedores de casi todos los países del hemisferio occidental se reunieron en el primer encuentro regional del Consejo Asesor del Programa Internacional de Liderazgo de Visitantes (IVLP) en Buenos Aires, Argentina. La idea  de esta conferencia surgió de un proyecto ganador de la competencia mundial Alumni Engagement Innovation Fund de la Oficina de Asuntos Educativos y Culturales del Departamento de Estado.
Durante la conferencia, los integrantes de este grupo de líderes intercambiaron experiencias, analizaron problemas que afectan a la región y buscaron soluciones comunes a los grandes temas regionales. Las discusiones, presentaciones y actividades futuras de estos ex becarios se centran en temas como democracia y gobernabilidad, oportunidades económicas y prosperidad, educación y empoderamiento, y las cuestiones ambientales. Las contribuciones de los ex becarios se encuentran enfocadas a la asistencia y cooperación entre países, que generen una mejora en la vida de la gente.
Uno de los resultados más importantes de la conferencia fue la creación de un consejo consultivo regional llamado Red de Ex Becarios IVLP de las Américas (IVLP Alumni Network of the Americas, IANA) y el lanzamiento de una plataforma digital para mantener la comunicación y colaboración. Los miembros de IANA trabajarán en conjunto sumando nuevos representantes de forma de lograr sinergias regionales. También está en pie la posibilidad de ampliación del grupo de expertos para incluir a otros ex becarios en beneficio de la región y el mundo.